Why We're Leaving California
THIS POST MAY CONTAIN AFFILIATE LINKS. PLEASE READ MY DISCLOSURE FOR MORE INFO.

Debt Free in Sunny CA is leaving California for Texas? Yes! After years of thinking about moving away, we finally decided to take the leap and jump into another state.
In this blog, we'll cover:

Reasons we're leaving California
Why we picked Texas
If we are still getting a sailboat
Moving plans
Other FAQs
Talking about moving has been a recurring theme in our house. Every few months we start the conversation of moving to another state. Florida and Texas have been our top two options because our company has office locations there (with the ability to transfer). After a few days of obsession over moving, we'd get distracted by something else and stop talking about it.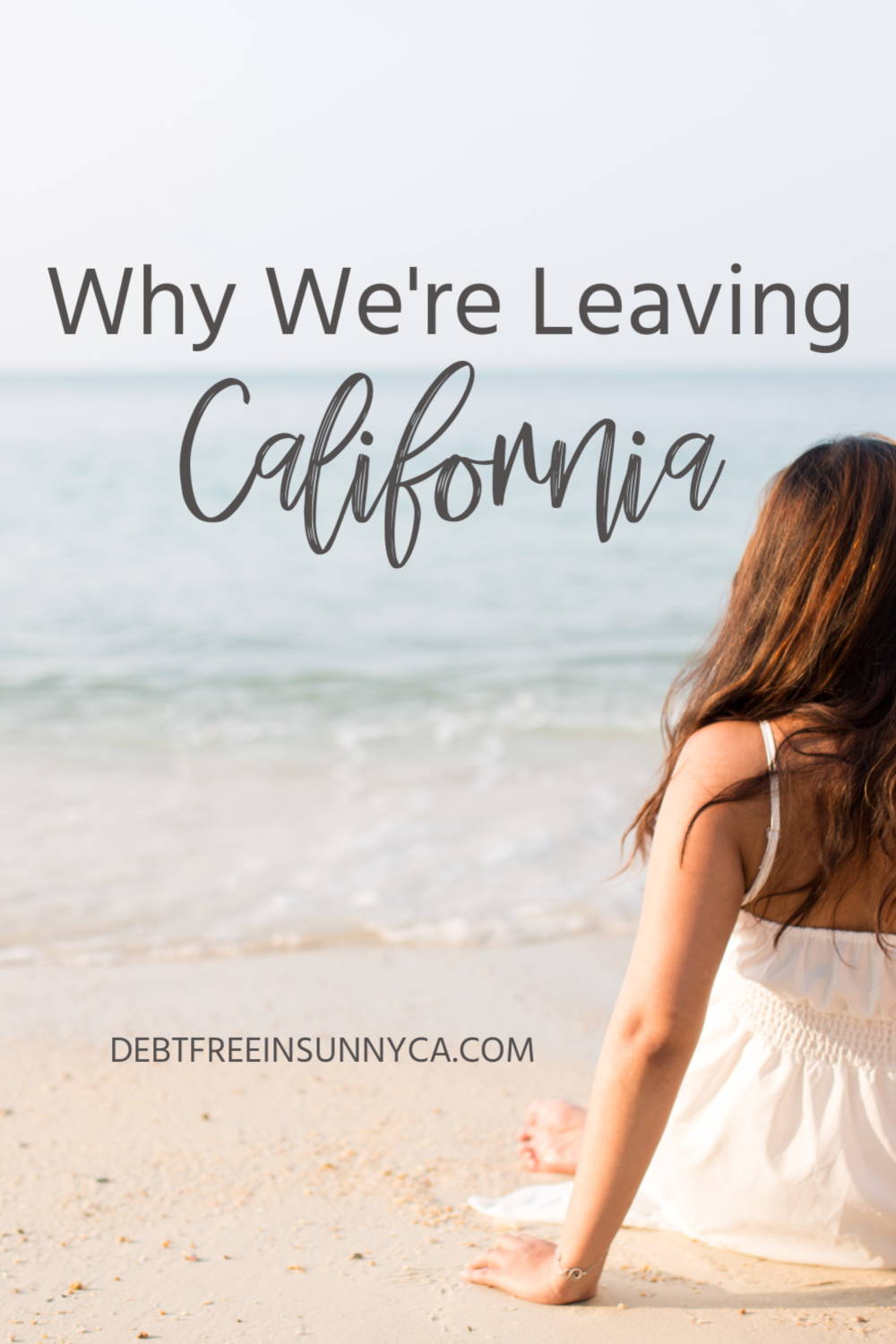 This time was different.

While at FinCon last year, I donated to a Kickstarter campaign for a documentary called Playing with Fire. The film recently finished, and I got early access to watch it. The documentary follows a couple in Coronado, California on their journey to FIRE (Financial Independence Retire Early).

Playing with Fire is not out yet. The premiere dates and locations were just announced. The book version is available now.

The idea behind FIRE is to save 50-70% of your income by living frugally and investing in index funds to reach financial independence in a short period of time - usually 10 years.

Throughout the film, the couple makes life-changing decisions to reduce their expenses and increase their savings rate. Their situation hit close to home because they live 30 minutes away from us. Watching Playing with Fire renewed our motivation to reach our goals - become financially independent and set sail.

Josh and I became debt free in July 2018 after paying off $133,763 in debt. While you're paying off debt, it's easy to stay motivated when you have a plan and see the number going down. It's another ballpark when you get on the other side. It's hard to stay focused because you now have the money to buy things you've gone without for so long.

I'm Amanda. My husband and I paid off $133,763 of debt in less than four years! During our journey, I realized what my true passion was in life: helping others become debt free and reach financial independence. You can learn more about us here.
We've cash flowed a great deal and saved ~$10,000 for our emergency fund. Significant accomplishments, but I've been having this feeling of needing to do something drastic for the past few months because it's going to take forever to reach our goals in California.

During the film, Josh said, "We need to move out of California." I couldn't have agreed more.

Here's the average cost of our monthly expenses in Vista, CA.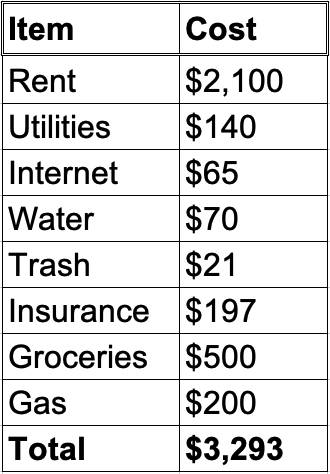 Join thousands of monthly readers!
Add an 8% income tax, and that equals a good chunk of our income each month. To us, the sunshine tax isn't worth it anymore. We don't want to spend more years of our life working when we could move somewhere more affordable and retire early.

Why Texas?
Texas and Florida were the two options when we decided we were going to move. Texas won for several reasons. The company office in Austin is bigger, which means a better chance of the move getting approved by upper management. Many IT and IT Security employees are at the Austin office - so we'd fit right in.

Texas is a central location to California and Tennessee. Our families live in these states. Driving or flying would be more convenient, and cheaper, from Texas.
Austin is far enough north to where they don't have to deal with hurricanes. Overall, we think Texas will be a better place to have rental properties.

The cost of living chart below shows the difference between San Diego and Austin. As you can see, it's a considerable amount. Looking at houses for rent on Craigslist and we could easily save $700+ each month just rent, and that's only one expense!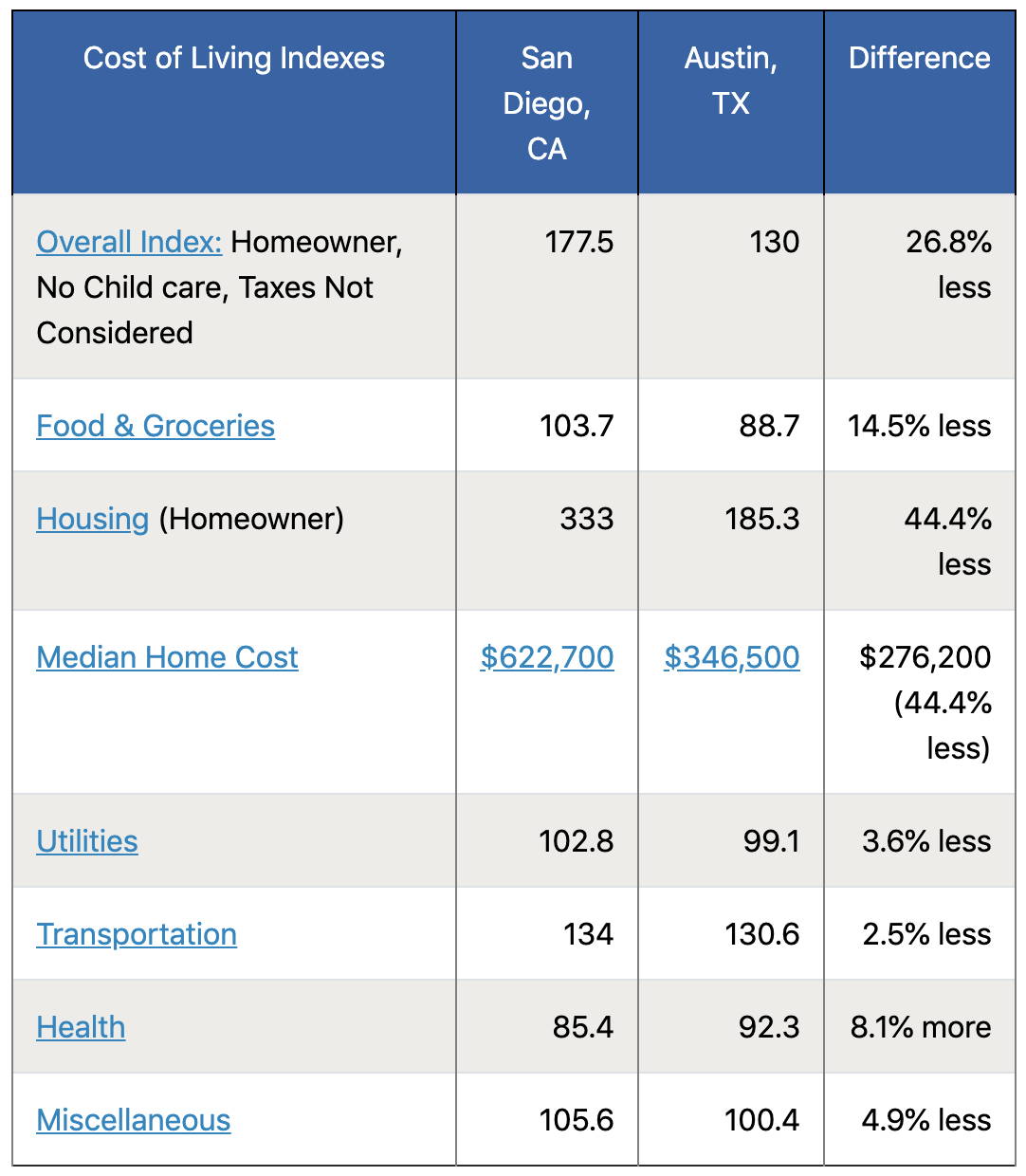 Sailboat dreams
You're leaving California, so your sailboat dreams are dead, right? No way! While it may seem counterintuitive to move away from the ocean when our goal is to buy a boat and quit our jobs, it's actually a smart move.

Our plan was never to quit our jobs and go sailing without a method to bring in income. It was either save up enough money to fund our travels or create passive income with the latter being the more desirable option.

Even though we won't be by the ocean, we'll still be able to learn how to sail. Did you know you can sail on lakes? Lake Travis is north of Austin and has a beautiful yacht club where we can learn how to sail. My sailing friends, OddGodfrey, learned how to sail in one of the driest corners - Nevada! They are now traveling the world on their sailboat.

So, yes, the plan is still to buy a sailboat. We're just taking extra steps to make sailing a sustainable lifestyle.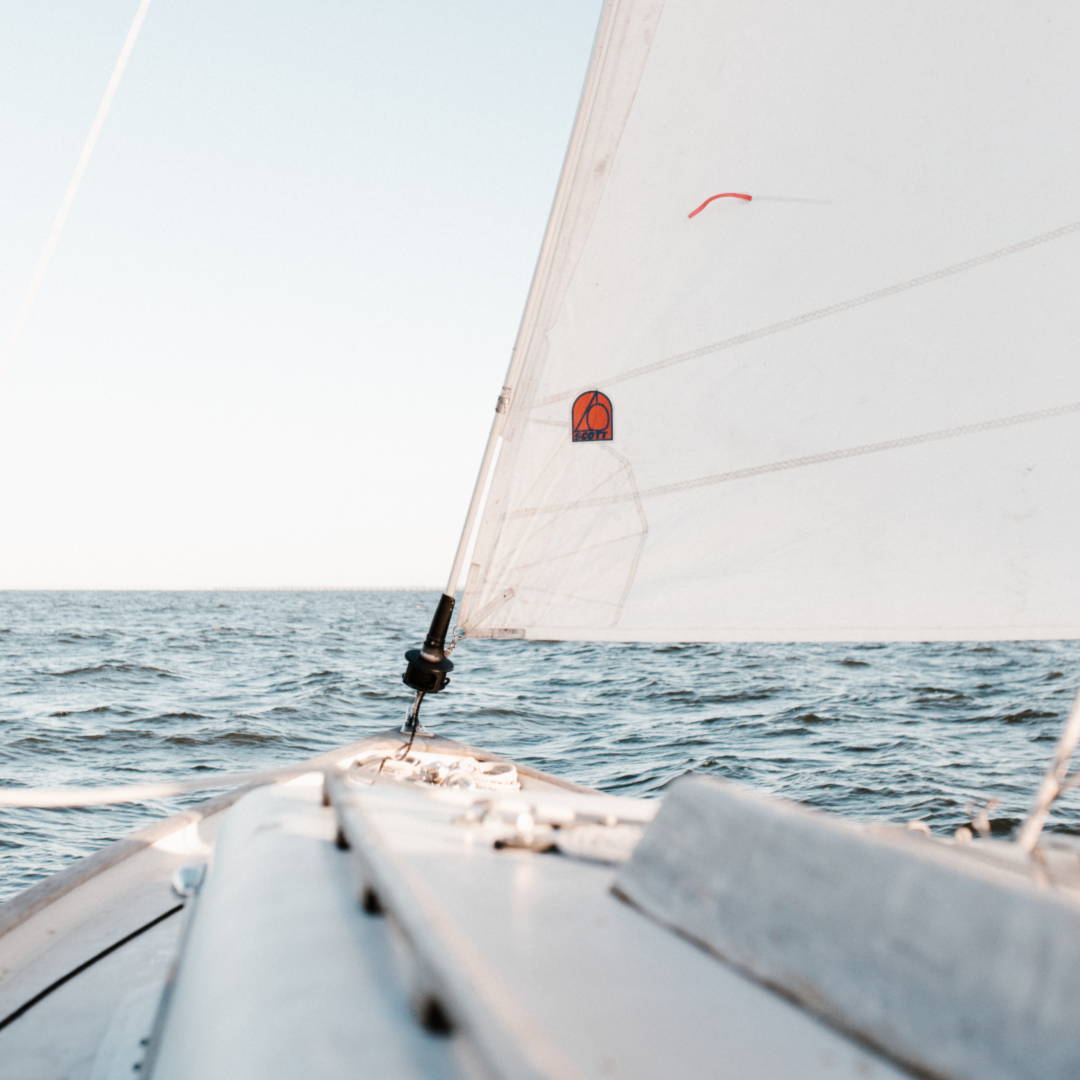 Create passive income

Josh and I are interested in rental properties as passive income. The average price of a house in Vista, California is $541,800. Even with our high salaries, it would take years to pay off a house of that value, let alone another one for renting out.
Passive income is defined as "earnings derived from a rental property, limited partnership or other enterprises in which a person is not actively involved."
Austin, on the other hand, we can buy a house or duplex for much cheaper. Our cost of living will drop significantly right away. No more 8% income tax, gas tax, restaurant tax, breathing tax - you get the point.
The moving plan

The lease for our current house is up at the end of August. That's when we plan on moving. It gives us plenty of time to sell items, save, plan, and pack. Our goal is to save $10,000 for the move. Big ticket items like truck maintenance & tires, moving services, and deposits are included in this number.

We plan on visiting Austin around July/August to start looking for a rental. We're fortunate that Josh's godmother lives there and will be able to help us in this area. We have a few neighborhoods in mind but haven't settled on anything yet.
Finding a place to live is the part that stresses me out the most. There's a small window of when we will be there to visit. What if we don't find anything while we're there and have to rely on pictures to make a decision?

We're looking into the specifics on how we will move our stuff. Uhaul? Pods? DIY? Another option we've been looking at is buying our own trailer to tow and then selling it when we get there.
I'll continue to share the specifics as we finalize our plans.
Jobs

What are we going to do about our jobs?
The company Josh and I work for has locations all over the world. We're fortunate to keep our current jobs and transfer to the Austin office! I talked to my boss, and he didn't see an issue with the move. Same with Josh's boss. Even our CIO (Chief Information Officer) approved the move within 10 minutes! The CIO is based in Austin and is always looking to get more IT employees out there.
Our pay will not change, but we will likely be capped out for future raises. I'm thrilled that we'll be able to keep our California salaries! Review season is right now, so we should get our raises before the big move. We're currently saving around $4,000 a month. I'm hoping to get that number to $6,000 a month with the move and raises.
Josh and I will be paying for the move since we're the ones who initiated it. It would feel wrong to ask our company to pay for it. They may pay for us to go work out there for a week. That would be awesome, but we're not expecting it.

Instagram
I love my Instagram handle. It's where this all started and where we became debt free despite the high cost of living. Nothing can change that.
Parting with my name would be tough. As of right now, it's staying! Debt Free In Sunny CA is what I'm known as! I can't just go and change that.
Instead, I will put "Became debt free in sunny CA - Moved to Texas to reach FI/RE" or similar in my bio, so new followers know the reason behind the name.
If I do rebrand in the future, I will pick something more generic and not location specific. There's a lot more behind the scenes to rebranding than changing my Instagram name. The domain name, business name & documents, logo, and a laundry list of other tasks. It would be a significant undertaking.
Buying a house
Will we buy a home right away?
No. It's essential for us to get to know the area and take our time when buying a house. Renting for six months to a year and then purchasing a home is the plan. By that time, we'll have a full emergency fund and a 20% downpayment large enough to forego Primary Mortgage Insurance (PMI).
When we do buy, I'd love to get a duplex so we can instantly create passive income. Live on one side and rent out the other. Bonus points if the property we buy has enough land that we can build a granny flat or put a tiny house there for additional rental income.
What do your families think about it?
My family is excited! They live in Tennessee, which makes Texas driving distance instead of having to fly. Now my sister and her kids will be able to visit more often because they don't have to buy 4 plane tickets.
Josh's family thinks it's a smart move, but they are sad to see us leave California.
Are you worried about the heat?
No! I know it will be hot, but I'm not worried about it. There will be air conditioning and rivers we can float in! It actually gets pretty hot in Vista during the summer, and unlike houses in Texas, we don't have air conditioning.
If you didn't know, I'm not actually from California. I'm a transplant and grew up as a military brat. I've lived in many different places. While I prefer California weather, it's just not worth the cost of living here anymore.
Funny story - when I first moved to California, I didn't know that most houses didn't have air. I turned up the thermostat expecting it to get cold. When it didn't, I called the leasing office, and she replied "Oh, Honey. We don't have air conditioning here. Open a window!"
The heat I can deal with. I'm more worried about the cold! It's something I'll have to get over and live with. Living a military lifestyle has prepared me to pick up and move without loving everything about where we're going.

Have you lived in Texas before?
Nope! I've visited several times.

Will this change the amount of Baby Step 3?
Yes! Once we're settled into the new area and have an idea of how much our monthly expenses will be, we'll decide on a new amount for Baby Step 3.

Are you going to host Texas meetups?
Of Course! I'll be doing monthly meetups in the Austin, Texas area. Keep an eye on my Instagram for information or check the meetup page periodically!

In the End...
It's about doing what it takes to get where you really want to go. California served us perfectly while in Baby Step 2, but we're on FIRE now.
There are many things we loved about living in California that we're going to miss. Perfect weather year round. The beach. Family. Hiking. The list goes on.
Sometimes you have to make significant sacrifices to reach your goals. That's precisely why we're moving to Texas. It's an opportunity to decrease our expenses while keeping the same salary. The amount we'll be able to save for retirement will significantly increase.

So here's to the years we spent in Sunny CA, and here's to the years we'll be in the Lone Star State!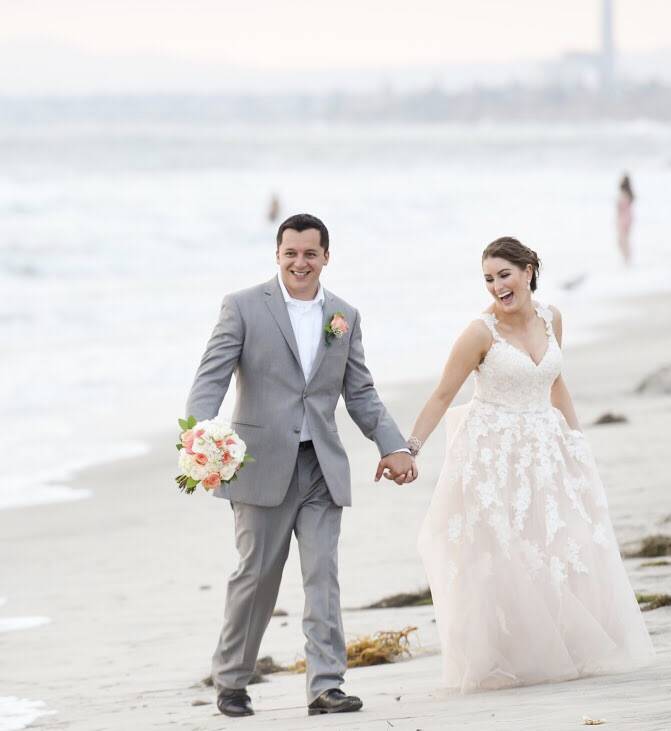 Amanda Williams is owner and founder of Debt Free In Sunny CA: A company inspiring financial literacy and debt free living. Josh and Amanda paid off $133,763 of debt in 3.7 years. She has built a dedicated, engaged, and loyal audience of thousands from the ground up. The #debtfreecommunity hashtag was created under Amanda's direction and has generated an online movement, bringing thousands together on a daily basis.