Making it in San Diego: My Interview with ABC 10News
THIS POST MAY CONTAIN AFFILIATE LINKS. PLEASE READ MY DISCLOSURE FOR MORE INFO.

I have some major news to share with you! If you've been following along with my Instagram stories, you know that I was interviewed by ABC 10News this morning for a new franchise called Making It In San Diego. As we all know, the cost of living is high in San Diego. This franchise focuses on people making it in different areas, such as the cost of living, housing, traffic, and others.
So how did this all happen?
I received an Instagram message from reporter Amanda Brandeis saying she had heard about our debt free journey and asked if I would be interested in speaking with her. Uhhh YEAH!

At this point, I figured it would be an interview for an article on 10news.com. We set up a time to talk on the phone about the interview, and to my surprise, it was going to be full blown lights, camera, action!
I was asked to have some helpful visuals and tips to give viewers for the interview. I chose a few pictures, my debt snowball chart in my bullet journal, and a copy of The Total Money Makeover.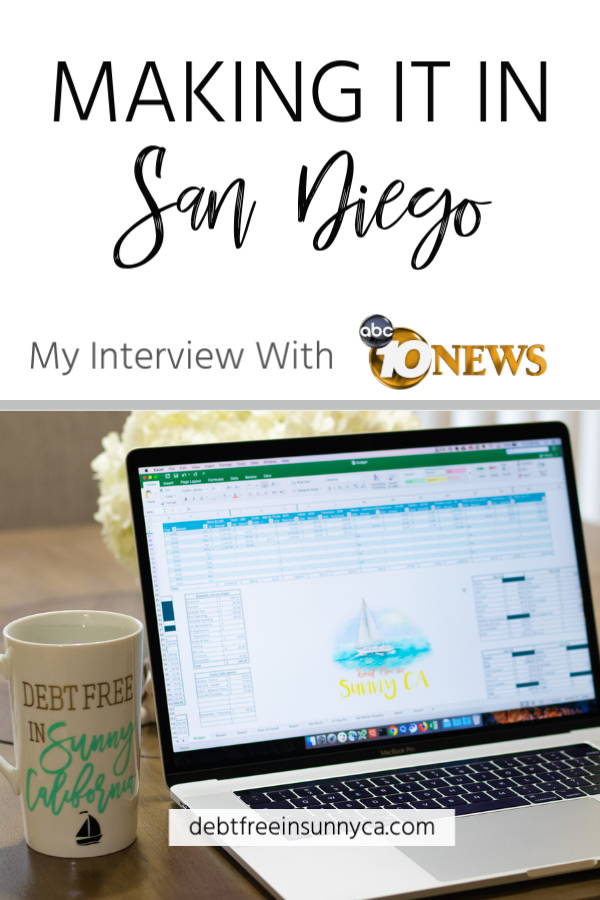 Amanda arrived at 9 am, and we got started right away. She talked more about the piece and other people she had interviewed. Then she casually mentioned that my interview would be used for the promo leading up to the series!
Yes, that means I'll be in the little commercial promoting the series!! *faints* She wasn't done shocking me yet. They want me to go down to the station when the interview airs and do a Facebook live afterward answering questions!
I was initially shocked and let's be honest, terrified. Going live is out of my comfort zone as it is, but going live on ABC 10News' Facebook is way out in outer space. After thinking about it for a minute, I said I would do it! I couldn't pass up this opportunity no matter how much it scared me.
Stop being afraid of what could go wrong and think of what could go right.
I was amazed to see that she does everything by herself. Interviewing, working the camera, writing, and editing; she does it all! She set up the camera, helped me mic up, and we went over my materials. I had my Debt Free in Sunny CA mug out on the counter. She loved it and thought it would fit in perfectly with the piece.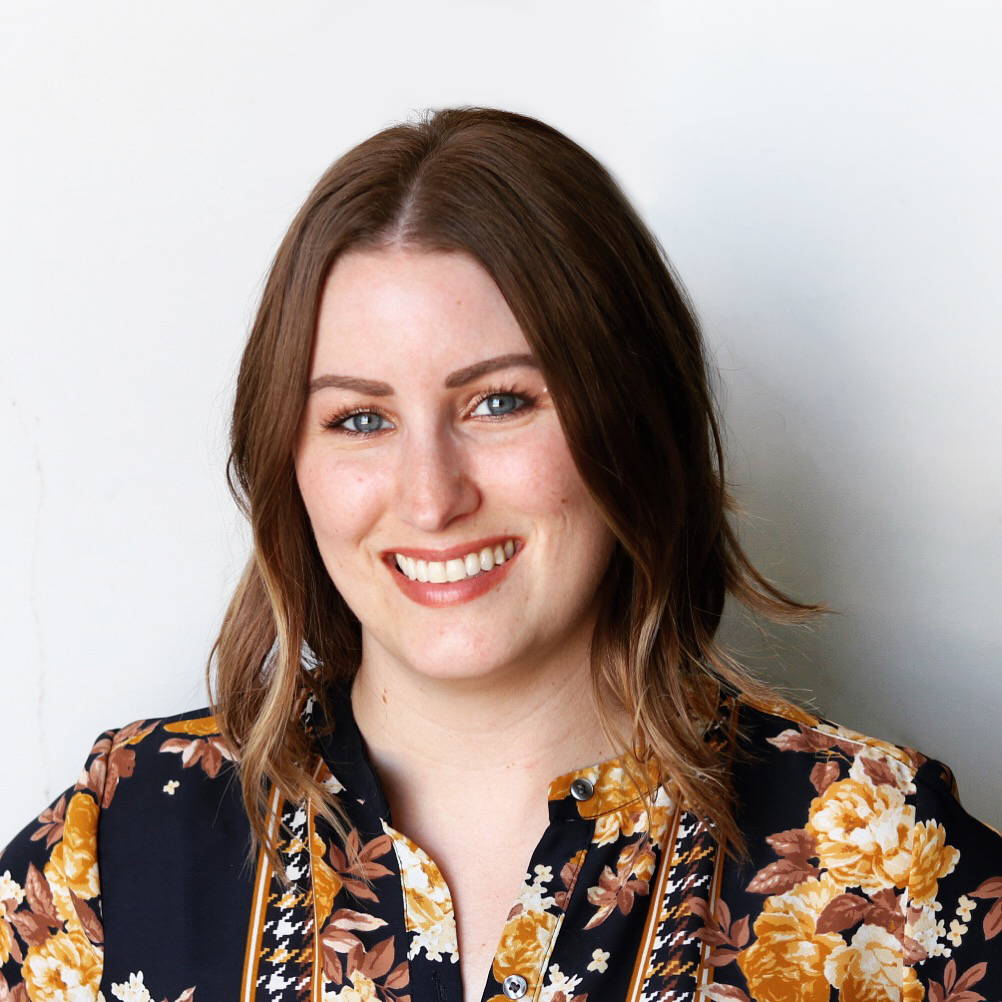 I'm Amanda. My husband and I paid off $133,763 of debt in less than four years! During our journey, I realized what my true passion was in life: helping others become debt free and reach financial independence. You can learn more about us here.
The interview started with her asking if I ever get messages from my followers telling me how much I've helped them. I get about one a week, and I save a screenshot of them in an "encouragement" folder on my phone for the days I'm feeling down. She asked me to read one of them for the interview.
"I just want to say thank you for your posts!! You have unknowingly changed my life. I just graduated from college and have been having anxiety about my student loans. I somehow stumbled upon your page and now am reading The Total Money Makeover and feel totally prepared to take on my debt and have financial stability!! Thank you!!"
From there, we went over the budget, took some shots of my materials, and then moved to the couch for the sit-down interview portion. Amanda made the interview extremely easy because it was like we were talking back and forth like friends.
It was personable and not intimidating. Anytime I would mess up, I would start over and do it again. Amanda had some great questions and did her homework when it comes to budgeting and getting out of debt.
Join thousands of monthly readers!
At the end of the interview, I grabbed Josh and the pups. Amanda shot some footage of us coming out of the house walking the dogs. We did a few back and forth walks down the sidewalk. On the last take, Buddy went right up to the camera and sniffed the microphone.
Airing details
May 24th at 6 PM Pacific on ABC 10News
May 23rd at 6 PM Pacific on ABC 10News
The interview will be posted on their website as well. I'll post a link once I have it. The Facebook live will be on ABC 10News Facebook page.
I am so excited and grateful for this opportunity. I'll keep you all updated on the story and will post about it leading up to it airing!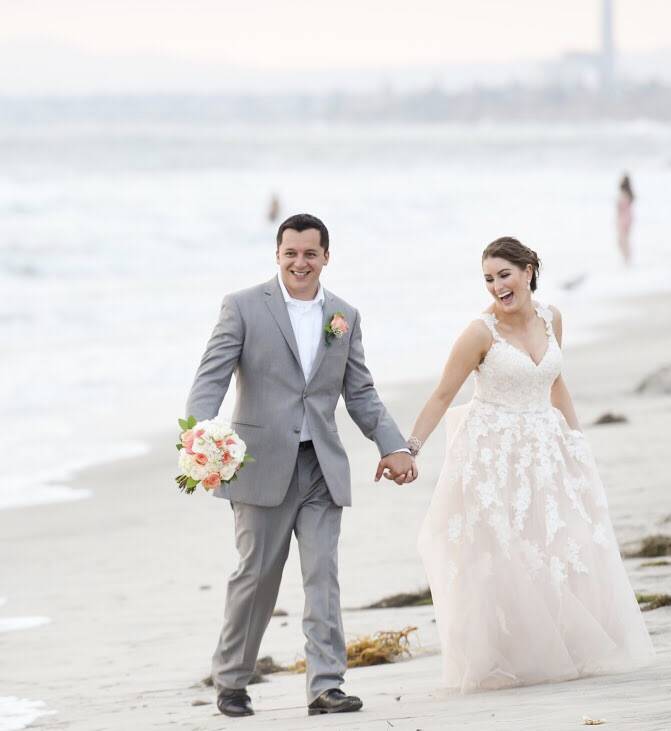 Amanda Williams is owner and founder of Debt Free In Sunny CA: A company inspiring financial literacy and debt free living. Josh and Amanda paid off $133,763 of debt in 3.7 years. She has built a dedicated, engaged, and loyal audience of thousands from the ground up. The #debtfreecommunity hashtag was created under Amanda's direction and has generated an online movement, bringing thousands together on a daily basis.