7 Easy Ways to Minimize College Debt
THIS POST MAY CONTAIN AFFILIATE LINKS. PLEASE READ MY DISCLOSURE FOR MORE INFO.

Americans are drowning in student debt. Collectively, 43 million adult Americans have racked up $1.5 trillion in federal student loan debt, PLUS another estimated $119 billion on student loans from private sources that are NOT backed by the government.
The average student loan payment is $393 per month, and an estimated 40% of borrowers expect to default on their loans by 2023.

That first paragraph should be enough to convince you that this is a national crisis. My goal is always to give you useful, relevant tips on how to reduce your debt. When it comes to student debt, I believe that this topic is essential for the wellbeing of our country AND for individual financial futures that are being eviscerated by this debt.

Studies have shown that the higher educated you are, the more amount of money you make in your lifetime. While the debate rages on regarding the return on investment of college - data shows that it is still a worthy endeavor.
In this blog, we'll discuss seven options that could help you save money during your higher education years. Some of these are not 'conventional,' but I included them to make you think outside the box!
1. Community College First

Attending a local community college will save you thousands and have long-lasting financial effects in your life. There's a stigma against staying in your hometown and grinding. I'm here to tell you that there are so many reasons why you should consider community college at the beginning of your higher education career:

• NO ONE asks where you started your college education; they ask where you graduated. Instead of spending $30,000 on your first two years, spend $10,000 and get all of your prereqs out of the way

• You have an opportunity to work towards a higher GPA, which will, in turn, give you a better chance at being accepted into a better university program

• You'll snag an Associates' Degree when you finish your two years… and another degree can't hurt in this day and ageYou get your prerequisite classes out of the way so that when you transfer to your 4-year university, you jump right into your program

• Choosing to live at home (if possible) during this time will save you in living expenses. With this opportunity, save up cash to help with the eventual Bachelor's degree that's coming down the road

*Make sure that the university you're aiming for accepts the credits from the classes you take at your community college. No one likes to find out that all the work they did in community college doesn't matter

3. Join The Military

It's important to note that joining the armed forces IS AN OPTION if you cannot afford higher education. If you meet specific requirements, you can qualify for the GI Bill along with BAH benefits while you are in school. There is also tuition assistance while you are serving. This means that while you are active duty, your tuition is free.

There are two options for the GI Bill for Veterans:

Montgomery GI Bill Active Duty (MGIB-AD)

You can get benefits through MGIB-AD if you served at least two years on active duty and you meet all of the requirements listed below:

• Were honorably discharged, and
• Have a high school diploma, GED, or 12 hours of college credit, and
• Meet other requirements: Learn more about MGIB-AD

Montgomery GI Bill Selected Reserve (MGIB-SR) -- this is an extension of the Montgomery Bill

You can get benefits through MGIB-SR if you're a member of the Army, Navy, Air Force, Marine Corps or Coast Guard Reserves, Army National Guard, or Air National Guard, and you meet all of the requirements listed below:

• Have either a 6-year service obligation (you agreed to serve 6 years) in the Selected Service, or
• Are an officer in the Selected Reserve who agreed to serve 6 years in addition to your initial service obligation, and
• Meet other needs: Learn more about MGIB-SR

For approved programs, the Post-9/11 GI Bill provides up to 36 months of education benefits.
If your release from active duty was before January 1, 2013, there is a 15-year time limitation for use of benefits.For individuals whose last discharge date is on or after January 1, 2013, the time limitation has been removed.
Institutions of higher learning participating in the Yellow Ribbon Program may make additional funds available for your education program without an additional charge to your GI Bill entitlement. The following payments may also be available:

• Monthly housing allowance
• Annual books and supplies stipend
• One-time rural benefit payment

• Amount increases with dependents
To see the current payment rates for the Post-9/11 GI Bill, click here.

Millions of our nation's veterans have been able to afford higher education from their well-earned GI Bill benefits. Not only do you get military experience, but you become more marketable in the civilian world after you are discharged.

4. Work While In School
The best way to offset the cost of student loans is to work while you're going to school. I understand that working full-time may not be the best option for everyone; however, I do believe and wholeheartedly support working while you are in school. If you play your cards right, you can get into an internship that pays. Therefore, you're already building up your resume, getting into your desired industry, AND paying for your expenses/education.

The greatest thing about being in college, or school in general, is all of the free resources at your disposal. Check in with your career center and see who is hiring. Many companies have partnered with universities to recruit students in their early years and retain them after graduation. There are often job fair events on campus (or nearby) that you can take advantage of.

Career centers can also help with the interview process, networking events, resumes, and more!

5. Choose a Profitable Career Path

I wish that everyone could have a successful career in whatever field they were most passionate about. I wish you could make a living wage with a degree in basset hound dog petting - if that's what you're into. Unfortunately, we must be more practical about our investments, especially an investment as uncertain as a college degree. While you may not have a future in dog petting, you may have a future in owning a pet sitting business.

Take a look at what industries are succeeding the most and what industries are projected to be booming in the future - try to fit yourself into one of these options.
Cyber Security is the second career I chose after retiring from massage therapy due to carpal tunnel syndrome. While I'm not passionate about cyber security, it was something that interested me, and I knew it would pay enough to fuel other passions in my life.
6. Invest in Internships

The only way you're going to know if you like the discipline you're studying in books is to try it out in real life. Get into your industry of choice and work side-by-side with people who have made this line of work their careers.
You'll network and make connections, and get hands-on experience, making you more marketable when you graduate. It will likely be hard work. Sometimes it will be menial or backbreaking, but investing in an internship, or multiple internships will give you the insight you need to make better-informed decisions for your career path.

*Be wary of exploitative companies. I tend to shy away from recommending companies that do not pay their interns. If a company values its interns, they will also value their employees.

Here are a few websites to help you find the right opportunity for you

7. Shop Around for Books
The student bookstore should be your LAST OPTION when purchasing required class materials. Let me repeat: The student bookstore should be your LAST OPTION when purchasing required class materials. I realize that sometimes you don't have an option; however, most of the time, you can decide where to purchase your books. Create a spreadsheet and compare prices from:
• Facebook Marketplace
• Craigslist or other local classified sources
• Student Bookstore (see, it's last!)

Is it easier to go down to the bookstore and purchase everything in one place? Yes. The method I've outlined takes time but is the most effective way to save hundreds and sometimes thousands (depending on your program) on books in college. In most cases, you can save between $200-500 per semester, just by researching for a couple of hours at the beginning of term.

A few other ideas to save on textbooks:
• Make friends and share the cost of a textbook
• If you don't mind electronic versions, you can usually rent or purchase at a fraction of the cost
• Don't forget about libraries!
• Use older versions of your textbooks
Ask your professor if you can purchase an older version of your textbook. Frequently, the core information is the same, and most professors will understand that you're trying to save some coins!

According to the
Federal Reserve
, over half of young adults who went to college in 2018 took on debt. The average student loan debt per borrower was $28,565, according to
Careers Wiki
.
About 69% of students from the Class of 2018 took out student loans, graduating with an average debt balance of $29,800, according to
Student Loan Hero.
With these actionable tips, you can drastically reduce your chances of becoming one of these statistics.

Have any of these tips saved you money? Let me know!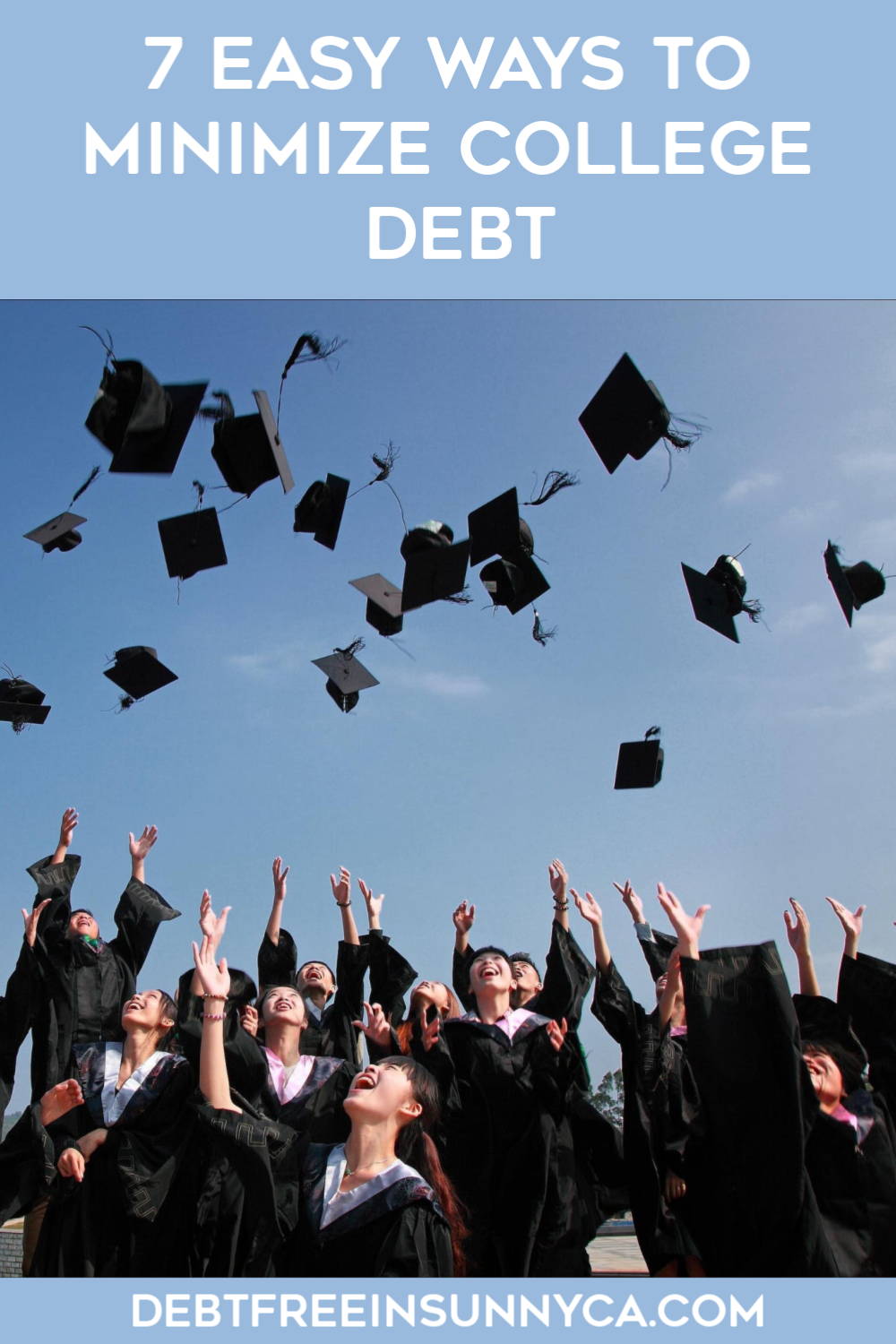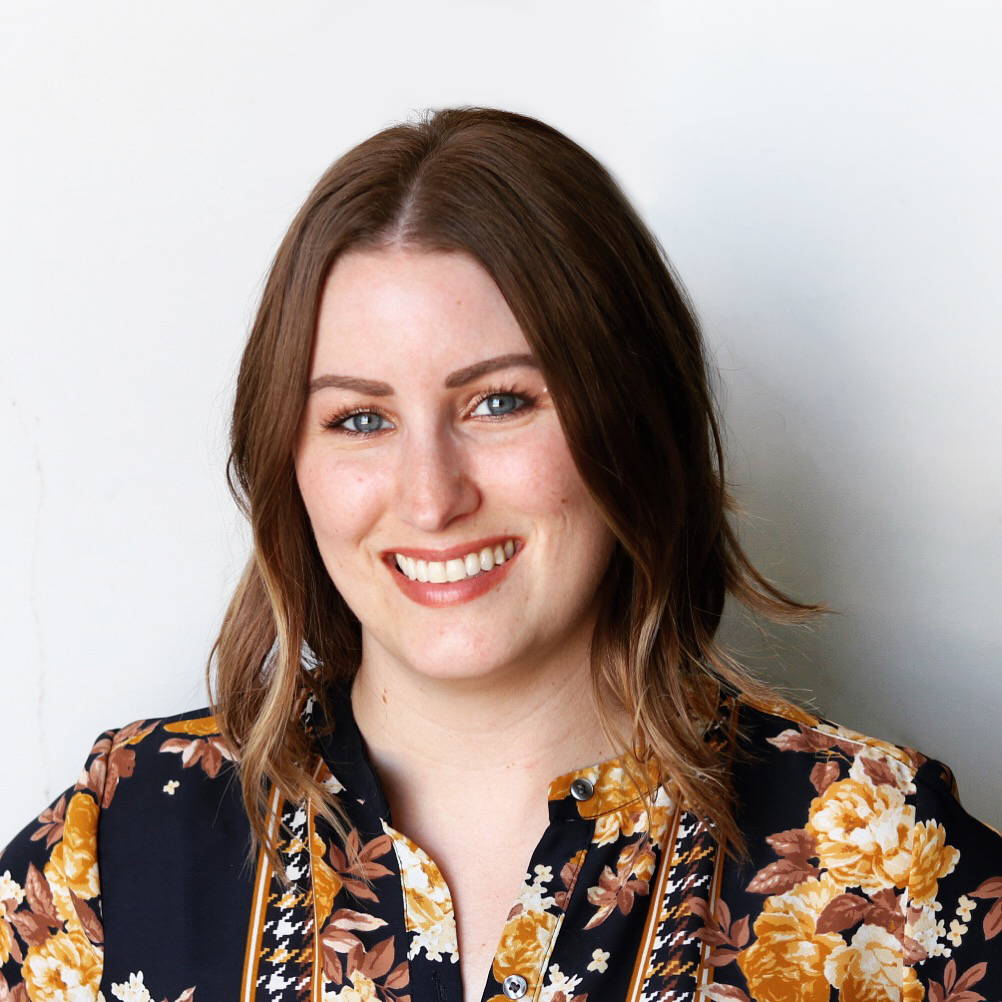 I'm Amanda. My husband and I paid off $133,763 of debt in less than four years! During our journey, I realized what my true passion was in life: helping others become debt free and reach financial independence. You can learn more about us here.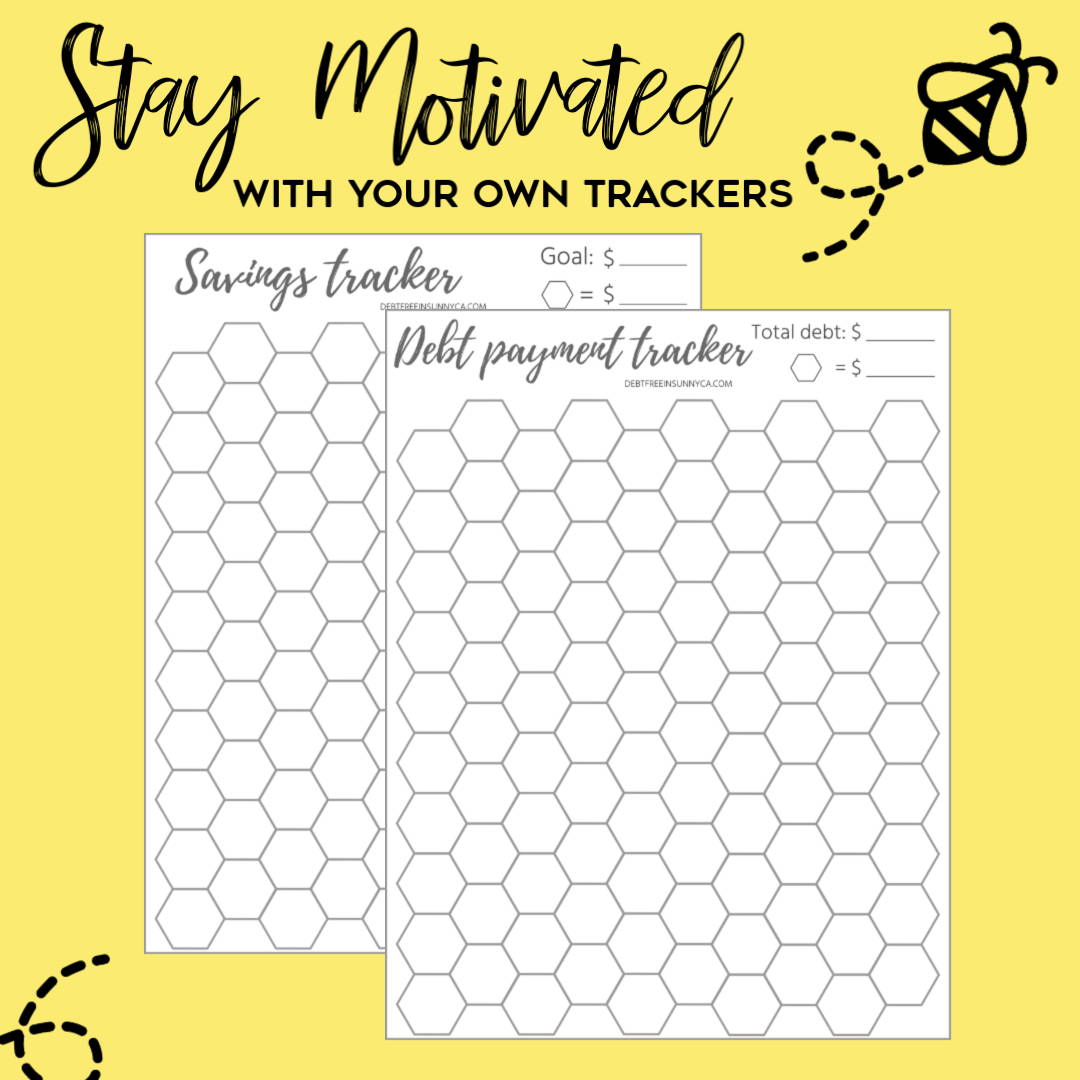 Join thousands of monthly readers!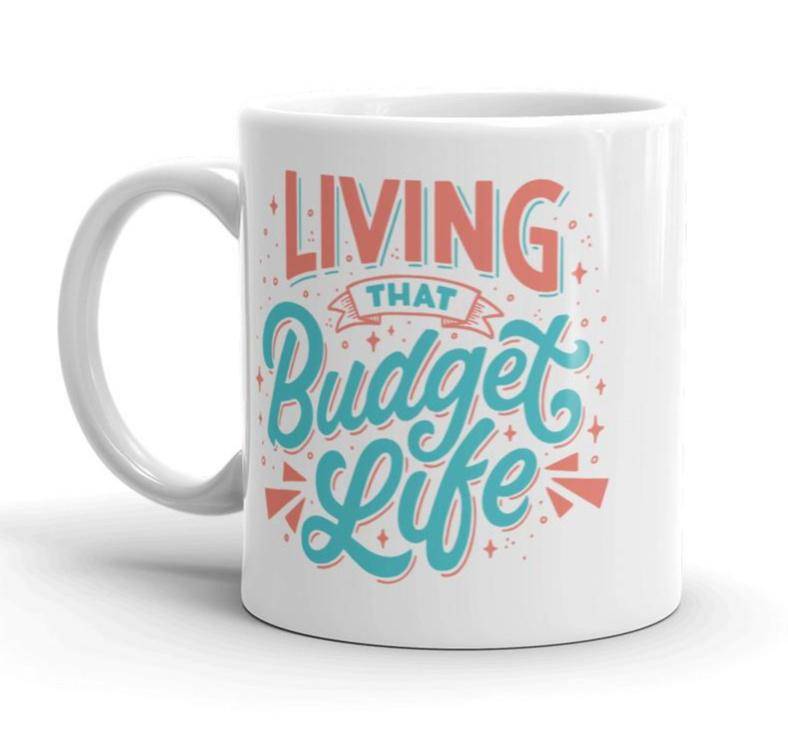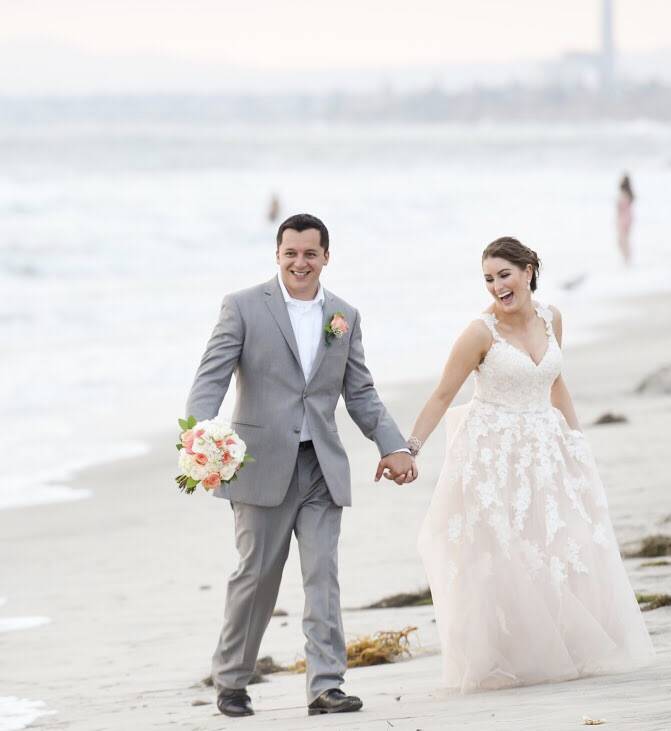 Amanda Williams is owner and founder of Debt Free In Sunny CA: A company inspiring financial literacy and debt free living. Josh and Amanda paid off $133,763 of debt in 3.7 years. She has built a dedicated, engaged, and loyal audience of thousands from the ground up. The #debtfreecommunity hashtag was created under Amanda's direction and has generated an online movement, bringing thousands together on a daily basis.
You can add custom Liquid code right here.